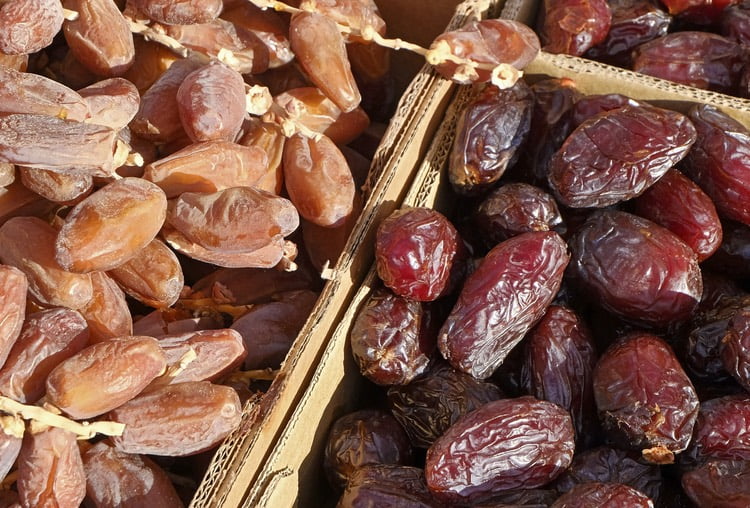 Deglet Noor vs Medjool Dates: Comparison of Characteristics
Dates are a staple food in Tunisia and have been a part of the country's culture for centuries. With a wide variety of date types available, Tunisians have devised creative ways to incorporate them into their cuisine. Whether you are a foodie or a traveler, here is everything you need to know about dates in Tunisia.
The Types of Dates in Tunisia
1- Deglet Nour:
Deglet Nour is known for its caramel-like taste and chewy texture. These dates are oval-shaped with smooth, golden-brown skin that is thin and tender.
The flesh of the date is soft, juicy, and sweet, with a caramel-like, subtle, and complex flavor. The texture of the date is chewy but not overly harsh, making it a popular choice for snacking or cooking.
These is one of the most famous dates varieties around the world. Deglet Noor harvest period is between September and December.
2- Ghars:
Ghars is a type of date fruit that is commonly grown and consumed in Tunisia. These dates are more significant and softer than the popular Deglet Nour dates and have a sweeter taste with a hint of caramel. Ghars dates are oval-shaped and come in various shades of brown.
They have a tender texture that melts in your mouth, making them a perfect addition to many desserts and baked goods. Due to their high sugar content, Ghars dates are often used in making syrups, jams, and candies.
They are also a great source of dietary fiber, vitamins, and minerals, making them a healthy snack. 
3- Allig:
Allig is a small and crunchy type of date that is native to Tunisia. These dates, also known as Ajwa, have a distinct sweet and slightly tangy flavor.
Allig dates are oblong-shaped with a brownish-red color and have a firm texture that provides a satisfying crunch when eaten. Due to their firm texture, Allig dates are often used in baking and cooking to add a unique texture and flavor to dishes.
Dates in Tunisian cuisine:
Dates are essential in Tunisian cuisine and are used in savoury and sweet dishes. The most popular variety of dates used in Tunisian cuisine is Deglet Nour, known for its caramel-like flavor and chewy texture. Tunisians have come up with many creative ways to incorporate dates into their cuisine, and here are a few examples:
1- Stuffed dates:
These are popular desserts in Tunisia, where pitted dates are stuffed with almonds, walnuts, or marzipan.
2- Makroud:
This is a traditional pastry made with semolina dough stuffed with date paste. The pastry is then fried and coated in honey syrup, giving it a sweet and crunchy taste.
3- Brik:
This savoury pastry contains eggs, tuna, and dates. The pastry is then fried until crispy, giving it a unique blend of flavors.
4- Couscous with dates:
 Couscous is a staple in Tunisia, often served with vegetables and meat. Dates are sometimes added to the couscous as a sweet and chewy addition.
5- Harissa with dates:
Harissa is a spicy paste made with chilli peppers, garlic, and other spices. Adding dates to harissa gives it a sweet and spicy taste, making it a perfect accompaniment to grilled meats and vegetables.
Dates are versatile in Tunisian cuisine, adding a unique flavour profile to many dishes. They are used in sweet and savoury dishes and are essential to Tunisian culture and tradition. If you visit Tunisia, trying traditional date dishes is essential to experience the country's rich culinary heritage.
Where to find dates in Tunisia:
The best place to find dates in Tunisia is local markets or souks, where vendors sell fresh and dried dates.
Some of the most famous souks for dates include the Medina of Tunis, Sousse, and Kairouan. Many farms and plantations throughout the country offer tours where visitors can see the harvesting process and sample fresh dates.
In conclusion, dates are essential to Tunisia's cuisine and culture. Whether you are trying them in a savoury dish or a sweet dessert, they are a must-try for any foodie or traveler visiting Tunisia.